1960
The Supreme Court, under the leadership of Earl Warren, took on the defense of individual rights as no court before it.
The U-2 came to public attention when pilot Francis Gary Powers was shot down over Soviet territory on 1 May 1960, causing an event known as the U-2 Crisis.
By the early 60's, the Rat Pack features its most famous line-up of Frank Sinatra, Dean Martin, Sammy Davis, Jr., Peter Lawford and Joey Bishop, who appeared together in films and on stage.
Kennedy presidential campaign jingle
Kennedy presidential campaign advertisement
To Kill a Mockingbird by Harper Lee
Psycho by Alfred Hitchcock
Jungfrukällan (The Virgin Spring) 1/9 - Ingmar Bergman 10m

Joe Turner - St. Louis Blues (W.C. Handy) 3:10 French

When The Saints Go Marching In - Louis Armstrong date?
When The Saints Go Marching In - Louis Armstrong other version date? introduces band members
I'm Gonna Run to My Jesus for Refuge - Charles Barnett 2:17
How Can I Face Tomorrow - Patsy Cline 1960
Up Above My Head - Sister Rosetta Tharpe 2:54 date?
Down By the Riverside - Sister Rosetta Tharpe 2:50
1961
President Kennedy Inaugural Address Jan 1961
footnote: Why the stovepipe hats in 1961? The stovepipe was in style for a very brief period during the Civil War. The country was celebrating a long series of nostalgic anniversaries of events leading up to the Civil war. There was the 150th birthday of Lincoln, the anniversary of the Emanipation Proclamation and many other anniversaries important to the Civil Rights Movement.?? 1963 is the 100 anniversary of the signing of the Emancipation Proclamation. In August, Americans gather in washington D.C. to demonstrate.
Invention: Birth-control pill
The Berlin Wall is built
Soviet launch first manned space flight in 1961
1961: John Glenn orbits the earth
Sunday, April 16 - United States of America launches a terrorist attack upon Cuba, invading the island at the Bay of Pigs.
196? is brought to you by the Volkswagen Beetle Bus
"Catch-22" by Joseph Heller
"Stranger in a Strange Land" by Robert Heinlein
I Fall to Pieces - Patsy Cline 1961
Walking After Midnight - Patsy Cline undated
Allen Ginsberg and Neal Cassady 4:09 1/3 year?
Allen Ginsberg and Neal Cassady 1:40 2/3 year?
Allen Ginsberg and Neal Cassady 3/3 year?
Allen Ginsberg reads from Howl year?
1962
In February 1962, the U.S. launched an economic embargo against Cuba.
"Lawrence of Arabia"
Kennedy Rice Stadium speech September 12, 1962 1 of 2 video 9:18
Kennedy Rice Stadium speech September 12, 1962 2 of 2 video
On September 12, 1962, Rice Stadium hosted the speech in which President John F. Kennedy challenged Americans to send a man to the moon by the end of the decade. In the speech, he used a reference to Rice University football to help frame his rhetoric:
But why, some say, the moon? Why choose this as our goal? And they may well ask why climb the highest mountain? Why, 35 years ago, fly the Atlantic? Why does Rice play Texas? We choose to go to the moon in this decade and do the other things, not because they are easy, but because they are hard, because that goal will serve to organize and measure the best of our energies and skills, because that challenge is one that we are willing to accept, one we are unwilling to postpone, and one which we intend to win, and the others, too.


On 14 October 1962, a U-2 from the 4080th Strategic Reconnaissance Wing, based at Laughlin Air Force Base near Del Rio, Texas and piloted by Major Richard S. Heyser, photographed the Soviet military installing nuclear warhead missiles in Cuba, thereby precipitating the Cuban missile crisis.

October 22, 1962 Kennedy televised speech ordering blockade of Soviet ships - Cuban Missile Crisis
1962 — A survey found no surviving Titicaca Orestias, a fish native to Lake Titicaca in Peru.
Bob Dylan records "Blowin' In The Wind"
"Silent Spring" by Rachel Carson
Old Fashioned Girl - Eartha Kitt (Live Kaskad 1962)
I Want to be Evil- Eartha Kitt (Live Kaskad 1962)
C'est Si Bon - Eartha Kitt (Live Kaskad 1962)
Let There Be Love - Dean Martin, Frank Sinatra and Judy Garland 2:17

1963
Read the Text and view the video of I Have a Dream
delivered on Aug 28, 1963 by Martin Luther King Jr.
Sep 2, Kennedy interview concerning Vietnam
The Warren Court that is remembered today is the 1963-69 Court, in which a solid bloc of five liberals created the revolution in constitutional criminal procedure, and which aided the civil rights movement as much as possible. Earl Warren became well known as a "liberal" Supreme Court justice, so much so that national politics revolved in part on one's position concerning the Court. That is, one's views of the Warren Court reflect in part one's views of an "activist" judiciary. Warren was a decisive, amiable and tough-minded leader of a fractious group, and he imprinted his political and legal views on nearly all of the Court's decisions in this six year period.

Elizabeth Cotten - Freight Train - on Rainbow Quest with Pete Seeger (No. 3)
Later Career and Recordings
During the later half of the fifties Mike Seeger began making bedroom reel to reel recordings of her songs in Elizabeth's house. The culmination of these recordings would later go on Folksongs and Instrumentals with Guitar, which was released on Folkways Records. Since its release, her songs, especially her signature track, "Freight Train," written when she was 11, have been covered by Peter, Paul, and Mary, Jerry Garcia, Bob Dylan,Matt Valentine and Taj Mahal. Shortly afterwards she began playing selected joint shows with Mike Seeger, the first of which was in 1960 at Swarthmore College. One of her songs, "Ain't Got No Honey Baby Now," was in fact recorded by Blind Boy Fuller under the title "Lost Lover Blues" in 1940. A tribute to Cotten, "In Memory of Elizabeth Cotton"[sic] was recorded by fIREHOSE on the album If'n shortly after her death. The song mimics her playing style and its lyrics echo the content of "Freight Train".
Over the course of the early sixties Elizabeth went on to play more shows with big names in the burgeoning sixties folk revival. Some of these included Mississippi John Hurt, John Lee Hooker, and Muddy Waters at venues such as the Newport Folk Festival and the Smithsonian Festival of American Folklife.
The newfound interest in her work inspired her to write more material to play and in 1967 she released a record created with her grandchildren entitled Shake Sugaree.
Using profits from her touring and record releases, as well as from the many awards given to her for contribution to the folk arts, Elizabeth moved with her daughter and grandchildren from Washington and bought a house in Syracuse, New York. She continued touring and releasing records well into her 80's. In 1984 she won the Grammy Award for "Best Ethnic or Traditional Recording" for her album on Arhoolie Records "Elizabeth Cotten Live." In 1989, Cotten was one of 75 influential African-American women chosen to be included in the photo documentary, "I Dream a World." When accepting the award on the Grammy stage in Los Angeles, her comment was "Thank you. I only wish I had my guitar so I could play a song for you all".
Elizabeth Cotten died in Syracuse, New York at the age of 92.
Kennedy's commencement address at American University June 10, 1963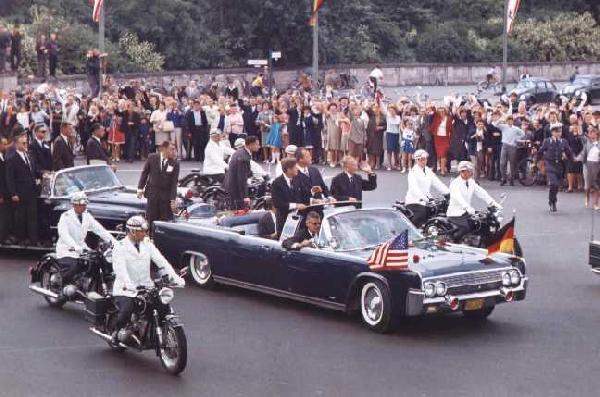 photo date 62 or 63?
Kennedy arrives at Dealy Plaza in Dallas, Texas - image
Peace March - Thousands Oppose Vietnam War
She Loves You Manchester - Beatles (1963) 2:32
Le Feu Follet - Molle 2:10 (french)
Le Feu Follet - Molle) 8:38 (french)
The bold stand of a few students, faculty, and local people, around the University of Califrornia in Berkeley, renewed the right to free speech and paved the way for the Anti-War Movement. Mario Savio delivers a climatic speech on the steps of Sproul Hall which had been occupied by one of the first of many "Sit-Ins". (Dec 2, 1964)
Kodak 156 Instamatic cartridge camera introduced.
Goldfinger with Sean Connery as the Hero, James Bond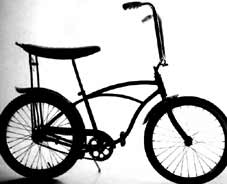 Schwinn introduces the Sting-Ray, with low-riding 'banana' seat and high-rise handlebars.
1964
1964: The Civil Rights Act

Killing Floor - Howlin' Wolf
I Feel Fine - Beatles
Audrey Hepburn speaking Cockney slang (My Fair Lady) 0:25

The Rain In Spain (My Fair Lady) - Audrey Hepburn as Eliza Doolittle 2:22
I Could Have Danced All Night (My Fair Lady) - Audrey Hepburn 3:55

Beatlemania Feb 1964 Beatles New York
September 24 Report of the President's Commission on the Assassination of President Kennedy

Supercalifragilisticexpialidocious - Julie Andrews as Mary Poppins 2:19
A Spoonful of Sugar - Julie Andrews as Mary Poppins
I Love to Laugh - Ed Wynn as Uncle Albert in Mary Poppins 7:39
The Lonesome Death of Hattie Carroll - Bob Dylan 1964 6:14
Mr. Tambourine man - Bob Dylan at 1964 Newport Folk Festival 5:14
Mustang Coming Soon! - Mustang Coming Soon! - television commercial 0:58

1965
Richard Feynman was awarded the Nobel Prize for Physics in 1965
Salty Dog - The Dillards (the Darlings) 1:52
Dooley - The Dillards (The Darlings) 1:45
The Times they are A-changin' (1965)

So You Want to be a Rock and Roll Star 2:01 this is a studio recording with montage
So You Want To Be A Rock 'n' Roll Star - live 1:49
Help! - Beatles 2:12
"Dr. Zhivago"
"The Sound of Music"
The Rolling Stones release "(I Can't Get No) Satisfaction"
The first abandoned rail corridor in the United States to be converted into a recreational trail is the Elroy-Sparta State Trail in Wisconsin, which opened in 1965. The following year the Illinois Prairie Path opened. The longest developed rail trail is currently the 225-mile Katy Trail in Missouri
In 1965, Congress passed the Federal Cigarette Labeling and Advertising Act requiring the surgeon general's warnings on all cigarette packages.
The Federal Cigarette Labeling and Advertising Act of 1965 (Public Law 89-92) required that the warning "Caution: Cigarette Smoking May Be Hazardous to Your Health" be placed in small print on one of the side panels of each cigarette package. The act prohibited additional labeling requirements at the federal, state, or local levels
Beatles at the NME Poll Winners Concert 1965 (1/3) I Feel Fine, She's a Woman 6:07
Beatles at the NME Poll Winners Concert 1965 (2/3) Baby's in Black, Ticket to Ride 5:57
Beatles at the NME Poll Winners Concert 1965 (3/3) Long Tall Sally 3:54
1966
1966- Truman Capote speaking about the nonfiction-novel

Subterranean Homesick Blues (1966) Allen Ginsberg stands on the left edge of the frame
Os Mutantes 3:13 (Brasil) year?
Sunday Morning - Velvet Underground and Nico 5:50
I'm Waiting For The Man - Velvet Underground and Nico 4:54
Femme Fatale - Velvet Underground and Nico live 2:51
Venus in Furs - Velvet Underground and Nico 5:14
Run Run Run - Velvet Underground and Nico 4:26

Heroin - Velvet Underground and Nico 7:15
Wouldn't It Be Nice - Beach Boys 2:18

Beatles behind the scenes footage
Theory of plate tectonics suggested

The 6-Day War
Christiaan Barnard performs the 1st heart transplant
Charles Whitman Texas tower shootings - August 1, 1966 Huntley Report
During the pre-dawn hours of August 1, 1966, Whitman killed his mother in her apartment and his wife at their residence. Later in the morning he bought a variety of ammunition and a shotgun; about 11:30 A.M. he went to the university tower, taking with him a footlocker, six guns, knives, food, and water. After clubbing the receptionist (who later died) on the twenty-eighth floor about 11:45 A.M., he killed two persons and wounded two others who were coming up the stairs from the twenty-seventh floor. On the observation deck of the tower, at an elevation of 231 feet, Whitman then opened fire on persons crossing the campus and on nearby streets, killing ten more people and wounding thirty-one more (one of whom died a week later). Police arrived and returned his fire, while other policemen worked their way into the tower. Several of the dead and wounded were moved to cover by students and other citizens while the firing continued. At 1:24 P.M. police and a deputized private citizen reached the observation deck, where police officers Ramiro Martinez and Houston McCoy shot and killed Whitman. Altogether, seventeen persons were killed, including Whitman, and thirty-one were wounded in one of the worst mass murders in modern United States history. An autopsy on Whitman's body revealed a brain tumor, but medical authorities disagreed over its effect on Whitman's actions. His body was returned to Lake Worth, Florida, for burial.
1967
In June 1967 the Federal Trade Commission (FTC) issued its first report to Congress recommending that the warning label be changed to "Warning: Cigarette Smoking Is Dangerous to Health and May Cause Death from Cancer and Other Diseases."
President Johnson nominates Thurgood Marshall to be associate justice of the Supreme Court of the United States.
The Graduate
Martin Luther King - speech delivered 4 April 1967 at a meeting of Clergy and Laity Concerned at Riverside Church in New York City
The Chicago Picasso, as it is generally referred to, was unveiled in the Civic Center Plaza on August 15, 1967. Executed from Picasso's 42-inch steel model, the finished sculpture is 50 feet high and weighs 162 tons.
Sgt. Pepper's Lonely Hearts Club Band by the Beatles
A Day in the Life - Beatles 5:02

Light My Fire - Doors live with montage 3:34
Break on Through - Doors live 1967
Last Train to Clarksville - The Monkees
That's Life - Frank Sinatra 5:28
Banho de Lua - Os Mutantes 1:12 (Brasil)
O Cantador - Elis Regina 3:07 (Brasil)
Veleiros - Elis Regina 2:44 (Brasil)
Apples and Oranges - Pink Floyd 3:05
If You Go Don't be Slow - Syd Barrett 67 or 74?
Expecting to Fly - Buffalo Springfield 3:46
Tuesday Afternoon - Moody Blues 4:28
Wild Thing - Jimi Hendrix at Monterrey Pop 1967 6:07
1968
The Tet Offensive
The decisions of the Warren Court became a part of the 1968 presidential election, won by Richard Nixon, and led to calls, still heard more nearly forty years later, for judges to engage in judicial "restraint." Nixon also campaigned on a "Law and Order" plaform.

2001: A Space Odyssey
Tiptoe through the Tulips - Tiny Tim (1968)
Where Have All The Flowers Gone - Pete Seeger
June Carter Johnny Cash Pete Seeger (1967) 4:51
I am the Walrus - Beatles 4:44
While My Guitar Gently Weeps (Acoustic) - George Harrison 3:25
Aquarius/Hair/Manchester England/Let the Sun Shine - original cast of Hair
Easy to be Hard - Jennifer Warnes from cast of Hair 3:07
Dois Mil e Um - Os Mutantes 3:48 (Brasil)
Clowns and Jugglers - Syd Barrett 2:53 July 20
Dont Look Back - Keith And Tex 3:20
April 4 Robert Kennedy's speech in Indianapolis on the death of Martin Luther King, Jr
June 5 Assassination of Robert Kennedy
In the summer of 1968, Chief Justice Earl Warren announced his retirement upon the appointment of his successor.
Dan Rather accosted by "Security" at Democratic National Convention 1:00
Confrontation between Chicago Police and demonstrators at 1968 Democratic National Convention 0:57
Strong-arm tactics at 1968 Democratic Convention 3:13
1969
Nixon appointed Warren Burger in 1969 to succeed Earl Warren, who was perceived as a liberal interventionist, especially in areas like school desegregation and civil rights, as Chief Justice. Nixon wanted the Court to follow a more conservative, go-slow attitude, especially in civil rights. This was the era of school busing and integration, real political hot buttons. Burger was a conservative Minnesota judge. The newly elected President, Republican Richard Nixon, fulfilled a promise to appoint Supreme Court Justices who were "strict constructionists" of the Constitution by nominating Burger.
"Turn on, tune in, drop out." -Timothy Leary
Legend of a Mind - Moody Blues 1969 6:08
1969? is sponsored by the Volkswagen Beetle
Apollo 11 astronaut Neil Armstrong's first step onto the Moon on July 20
I Want You Back - Jackson Five
CBS August 9, 1969 Newscast of Tate-LaBianca Murders
August 1969 - period after Tate-LaBianca murders
August 15 – August 17, 1969 Woodstock Music and Arts Fair
Going up the Country - Canned Heat 2:55
I Feel Like I'm Fixin' to Die Rag - Country Joe McDonald at Woodstock 3:18
Congress passed the Public Health Cigarette Smoking Act (Public Law 91-222), which prohibited cigarette advertising on television and radio and required that each cigarette package contain the label "Warning: The Surgeon General Has Determined That Cigarette Smoking Is Dangerous to Your Health."
1969: Book: "Slaughterhouse Five" by Kurt Vonnegut
Space Oddity (original version)- David Bowie
Feel The Spirit - Ethiopians 2:34
Reggae In Your Jeggae - Dandy 3:05
Brixton Cat - Dice The Boss 2:45

21st Century Schizoid Man - King Crimson 7:23
Philosophy of the World - The Shaggs
My Pal Foot Foot - The Shaggs
Panis et Circences - Os Mutantes 2:59 (Brasil)
Fuga Nº 2 - Os Mutantes 2:48 (Brasil) 69 or 70?
Preciso Urgentemente Encontrar Um Amigo - Os Mutantes 3:33 (Brasil)
Aberdeen Mississippi Blues - Bukka White 3:27
Poor Boy Long Way from Home - Bukka White 3:10
Mama Don't Allow - Bukka White 3:00 (date?)